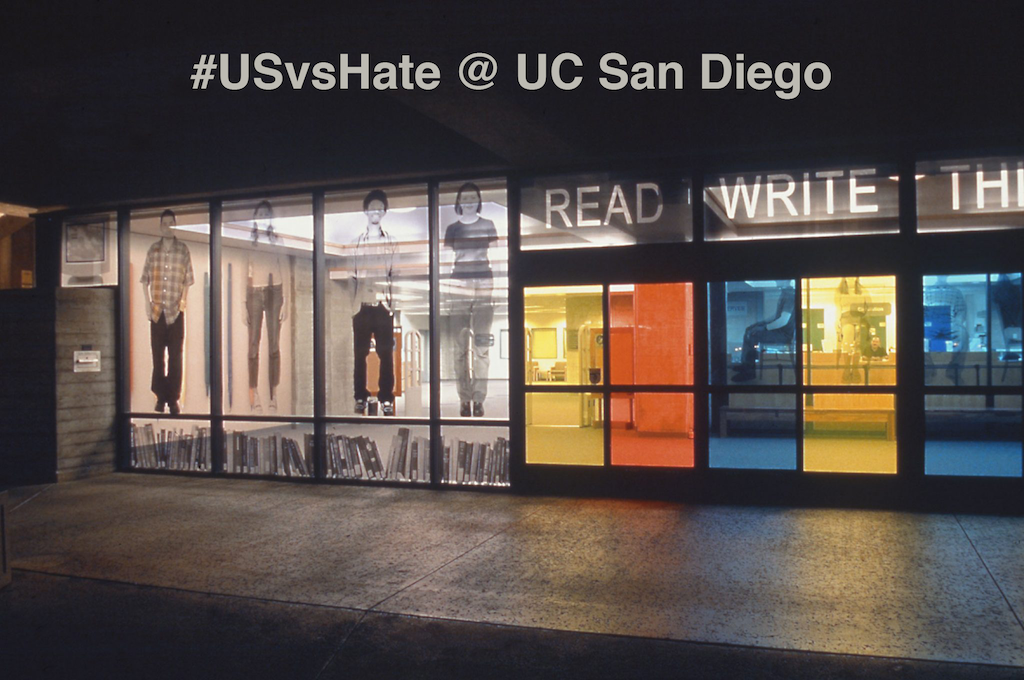 #USvsHate ("us versus hate") @ UC San Diego is the country's first higher education version of #USvsHate, a national anti-hate messaging project originally piloted by K12 educators and students in San Diego via UC San Diego's CREATE. #USvsHate embraces inclusion and justice for all in our diverse schools and society. In #USvsHate, students are invited to create public anti-hate messages in any media for their school communities.
We amplify undergraduate and graduate student voices for our campus audience and beyond.
Read more here on the About Page.

#USvsHate @ UC San Diego is a collaborative campus-wide initiative bridging academic departments, campus community centers, research, and student life.
Human Developmental Sciences houses #USvsHate within the undergraduate "Equity, Diversity, and Inclusion Major/Minor Specialization" and is led by Mariko Cavey (mcavey@ucsd.edu).

The Center for Research in Educational Equity, Assessment, and Teaching Excellence (CREATE) represents the research home of #USvsHate and is led by Education Studies Professor and CREATE Director Mica Pollock (micapollock@ucsd.edu).

As a division of the Vice Chancellor's Office for Equity, Diversity, and Inclusion, the Cross Cultural Center supports #USvsHate as a campus hub for EDI projects and is led by Edwina Welch (ewelch@ucsd.edu).

The UC San Diego pilot of #USvsHate was funded by a VOICE grant from the UC National Center for Free Speech and Civic Engagement, with support from VC-EDI's Triton Community Initiative.